KIRO® Oncology
Grifols KIRO Oncology is an aseptic compounding robotic system with engineering controls that focus on precision, flexibility, reliability, and safety throughout the highly complex process of compounding chemotherapy medications.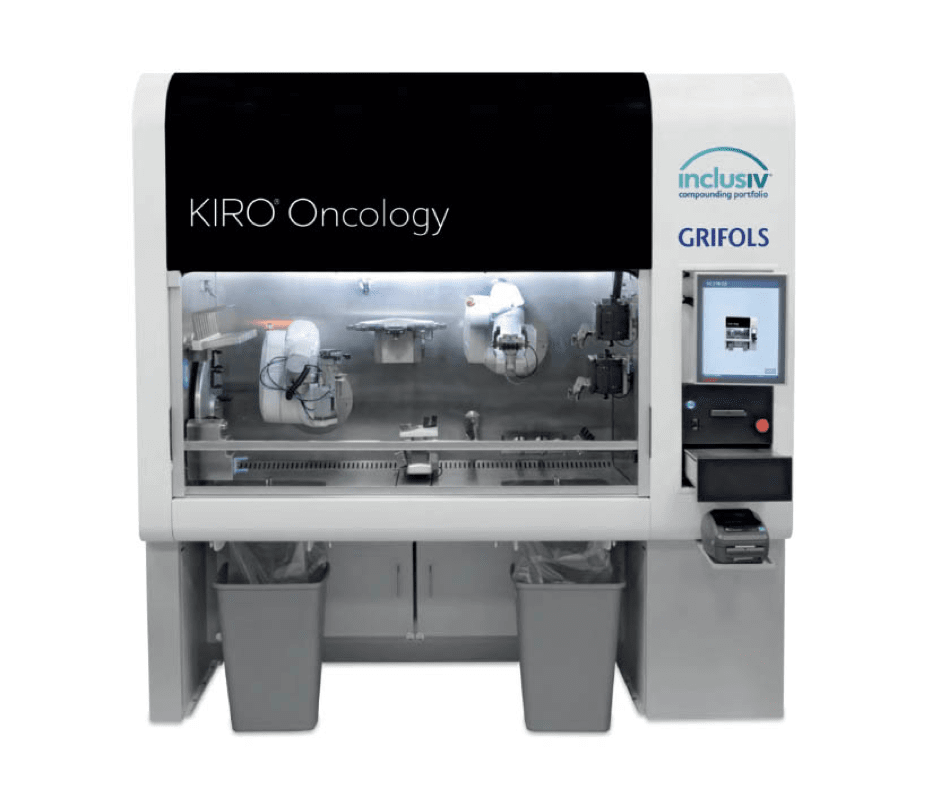 Overview
For the compounding of sterile preparations of hazardous drugs.
Benefits of Grifols KIRO Oncology
ISO 5 or better air quality even when opened for cleaning
In-process barcode readers and cameras capture product and expiration data on drugs, disposables, and final containers with or without barcodes for verification, accurate traceability, and reduced risk of human error
Precision scales perform gravimetric verification at all stages of the compounding process for assurance of dose precision and reporting
Avoids cross-contamination by never reusing a disposable for different drugs across different order
Adjustable parameters for automatic release of precisely dosed preparations
Beyond use dates (BUDs) are automatically assigned and tracked for final products and also for multi-dose vials to ensure maximum utilization, automatic disposal, and waste minimization
Tracking, rejection, and final labels can be customized to each facility's needs
ISO 5 compounding area meets USP <797>, USP <800>, and Current Good Manufacturing Practice (cGMP) regulations on engineering controls for aseptic hazardous compounding
Designed as a containment primary engineering control, provides continuous ISO 5 environment during materials loading and automatic compounding
Can be properly integrated as a biosafety cabinet in USP <797> and cGMP compliant facilities
No turbulence or refluxing at any critical site
Sterile products and preparations are not exposed to room air once loaded
All processes can be performed without introducing contamination
Negative pressure and ACPH are adjustable within USP <800> requirements
Included "media fill test cycle" simulates complex preparation for user and device requalifications
Searchable, reportable database automatically captures valuable data including ingredient NDC, lot and expiration, precise actual dosing amount, waste and precision relative to order, production time points, user interactions, and BUDs
Interface engine supports bidirectional integration with EMR by a variety of protocols including HL7
Size - equivalent to a 6-foot vertical flow cabinet—facilitates integration into existing cleanroom facilities
Easy to use web-based software application accessible from any workstation with automatic and manual compounding queues, reporting and more.
Protects users and environment from exposure to hazardous drug during critical operations by functioning as a negative-pressure, closed system
Compounding area is only open for non-critical material loading and unloading operations, during which it operates as a Class II Biosafety Cabinet
Protects users from repetitive stress injuries by automating those that require the most force
Protects the user and environment from hazardous waste with integrated systems for automated disposal
Self-cleaning process avoids exposure to any potential hazardous drug residue and provides both disinfection and chemical decontamination
Two robotic arms enable multiple parallel processes for speed and efficiency
Two peristaltic pumps enable fast, precise dosing of diluents
Accommodation of a variety of sizes and manufacturers' bags, syringes, infusers, and cassettes — as well as industry-standard disposables — mitigates disruption to current and future contracts and preferences
Prepares patient-specific doses and small batches using liquid and lyophilized drugs
Partial vials are held within the cabinet and can be automatically used for subsequent dose preparation
"Partial vial" labels, database tracking, and recommendations to use available partial vials maximize reuse of unloaded partial vials
Automatic disposal of empty vials and used disposables
Optimizes workflow efficiencies by freeing user to start picking process for next order or other tasks
Self-cleaning process reduces time spent by staff
Download our product brochure for more information about features, regulation compliance and equipment specifications, installation requirements and certifications.
Learn more about Robotics and Other Compounding Devices
KIRO SP
Grifols KIRO SP is a KIRO Oncology robotic system used for the automated production of compounded sterile preparations of nonhazardous doses.
KIRO Fill
Enhance dosing accuracy and optimize operational efficiencies.
Gri-fill
Advance patient safety and mitigate repetitive stress injuries with precision.
Contact our experts to discuss your sterile compounding needs and plans for the future.