inclusiv® Modular Cleanrooms
Easy Installation and Maintenance
Our Modular Cleanrooms are easy to install and maintain. Nonporous, nonshedding and antimicrobial surfaces with coved corners are easy to decontaminate and clean.
Flexibility and Strength
Customizable to fit any space and easy to move to adapt to future spaces. The ceilings are walkable for safe and easy access to mechanical systems.
Cleanrooms Certification Guaranteed
Last invoice is held until the cleanrooms passes Controlled Environment Testing (CETA) certification by an impartial third-party.
Custom modular and prefabricated for faster build onsite
Durable 2" thick panels with steel surface, extruded aluminum endcaps, aluminum honeycomb core
uPVC coated- antimicrobial surface:

Resistant to degradation by UV light
Resistant to traditional sterilizing compounds (e.g., bleach, peroxides, quats, alcohols)

Flush seams sealed with FDA- approved 'cold-weld' epoxy
Enclosed raceways every 4'
Coved corners and transitions for easy cleaning
Walkable ceilings for safe and easy access to mechanical systems without disrupting the cleanroom environment. Capable of accommodating a wide variety of mechanical systems, lighting, sprinklers, HEPA filters, utilities, and small equipment.
Heat-welded sheet vinyl or poured epoxy for high traffic areas – slip, abrasion, and fire resistant. PVC coving is used at wall, floor, and ceiling junctions within the cleanroom.
Flush frames integrated with wall panels, recessed hinges, sealed on three sides
Manual and automatic hand wave with interlocks and emergency access
Flush double-glazed windows for doors and studless walls consist of two panes of ¼ inch tempered glass, bonded and sealed to an aluminum frame filled with desiccant to reduce moisture.
Rounded corner walls for easy cleaning.
inclusiv design and installation includes an advanced continuous monitoring system for particle count, temperature, humidity and pressure, providing alerts and notification of any related environmental excursions, and regulatory reporting.
HEPA Filtered Pass-Throughs
HEPA filtered pass-throughs improve workflow efficiency and minimize contamination and PPE cost.
Specifically designed for cleanroom applications are airtight and flush to the ceiling.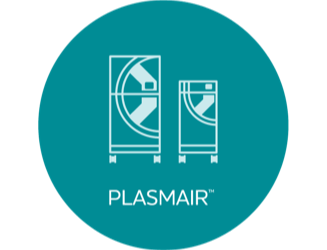 PLASMAIR™ HEPA-MD™ Air Decontamination
Remediate viable airborne contamination and increase air quality 24/7 with the PLASMAIR mobile decontamination units leveraging HEPA-MD cold plasma technology.
Learn more about inclusiv Modular Cleanrooms
Construction Process
We accompany you throughout the process until the final certification.
Cleanrooms Certification
Grifols offers Cleanrooms compliance with USP <795>, <797>, and <800>.
Case Study: USP Compliance Cleanrooms
Cleanrooms Renovation for USP <797> and USP <800> Compliance
Contact our experts to discuss your sterile compounding needs and plans for the future.